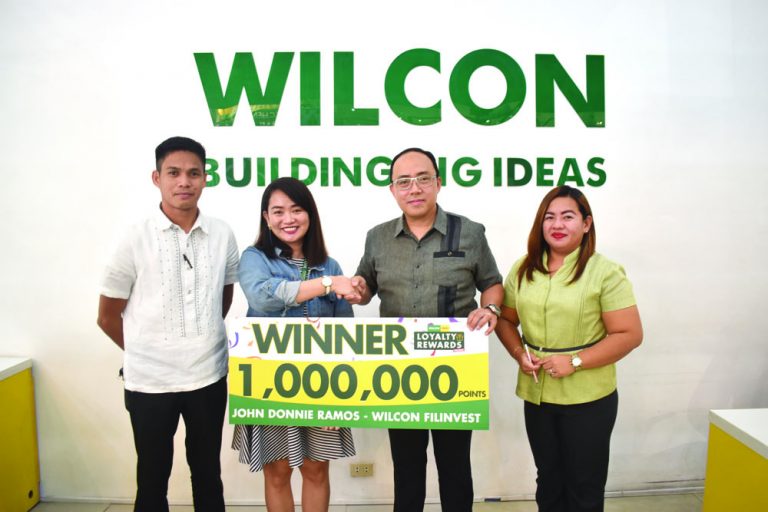 IN CELEBRATION of the 42nd anniversary of the country's leading home improvement and construction supply retailer, Wilcon Depot, gave a chance to its valued customers to win amazing prizes including fifteen Hamden kitchen appliances, ten smartphones and the one-million loyalty rewards points.
On Nov. 26, the grand winner John Donnie Ramos claimed the grand prize of one-million loyalty rewards points. "It was just another normal day for me at the office when I knew. A salesman called me and informed me that I've won. I was so surprised because I never expected to win since I've never won in any raffle before." he said in an interview.
John Donnie has been a Wilcon customer for many years and has been using the Wilcon Loyalty App ever since it was launched a few months ago. "It's my go-to store when looking for tiles, specifically pool tiles. The choices here are endless!" he claimed.
Winning the grand prize came at such a surprisingly great time as he is currently renovating his house. When he got an entry for the anniversary promotion, he bought bathroom products from Wilcon Depot Filinvest, Muntinlupa City.
John Donnie also shared the things he will be getting from the one-million points, "I'll use it mainly for the finishing of my house like lighting, bathroom essentials and kitchen appliances." Luckily, Wilcon offers topnotch products that match with what he's looking for! From tiles, sanitarywares, plumbing, furniture, home interior, building materials, hardware, electrical, appliances, and other DIY items, Wilcon is definitely a one-stop shop for home improvement.
Congratulations John Donnie Ramos! Continue shopping at Wilcon Depot and be one of the lucky winners of upcoming promotions from Wilcon Depot. For more information and promo updates about Wilcon, log on to www.wilcon.com.ph and follow their social media accounts on Facebook and Instagram at @wilcondepot.ph. You can also shop online with Wilcon by visiting www.shop.wilcon.com.ph./PN