By: Micah Jane T. Cantomayor, Intern RBI
From being dubbed as the youngest radio station to becoming one of the most trusted and reliable sources of news and information, Radyo Bandera Iloilo Sweet FM commemorates its 2nd Year Anniversary with a remarkable theme: "Winning Battles: 2-gether we can achieve greater heights with RYU's heart of leadership" last July 5, 2023 at the Grand Xing Imperial Hotel, Iloilo City.
Rey Espeja Umalay, Station Manager of RBI News-FM, said during the program's opening ceremony,
"For me, winning battles is on how you touch the lives of so many people and helping them to become a better person, and that is through Radyo Bandera Sweet FM unique brand of RYU's (Ramel Ytang Uy) heart of leadership."
Unbeknownst to some, the radio station started to operates inside the four walls of a small apartment in a building located at Jaime St., Barangay Luna, Jaro, Iloilo City as a digital station last March 4, 2021.
In a field where huge networks are progressing, the station's Chief Executive Officer and President Dr. Ramel Ytang Uy (RYU) braved the storms by founding the station's mission not only centered around being a news platform but also becoming an avenue of support for the needy with genuine leadership and public service through its Corporate Social Responsibility (CSR) "Serbisyong Bandera Wow, May Puso" that sincerely dedicated to the masses.
"We are a network whose main purpose is to extend a hand to our brothers and sisters in whatever possible way we can. Indi lang nga naga dul-ong kami sang impormasyon, balita, kalingawan, but gadul-ong man kami sang serbisyo publiko," the CEO said in his opening speech.
"Let us stand firm to create an image best for our slogan which means Faith in the City of Iloilo, the City of Love," he added.
True to his words, the station lives up to its social responsibility through various programs which aim to provide assistance to the poorest of the poor families and affected communities in Iloilo.
Apart from highlighting the humble beginnings of Radyo Bandera, the CEO also emphasized the awards and recognition given to the station such as securing its spot as the leading FM Radio Station in Iloilo based on their recently conducted in-house survey.
Together with Mr. Umalay, he also expressed his heartfelt gratitude to different people, local agencies, and partnered organizations, most especially to their hardworking staff and employees who invest their best efforts and become a huge part of the station's success and achievements by giving them a CEO & Manager's Excellence Award.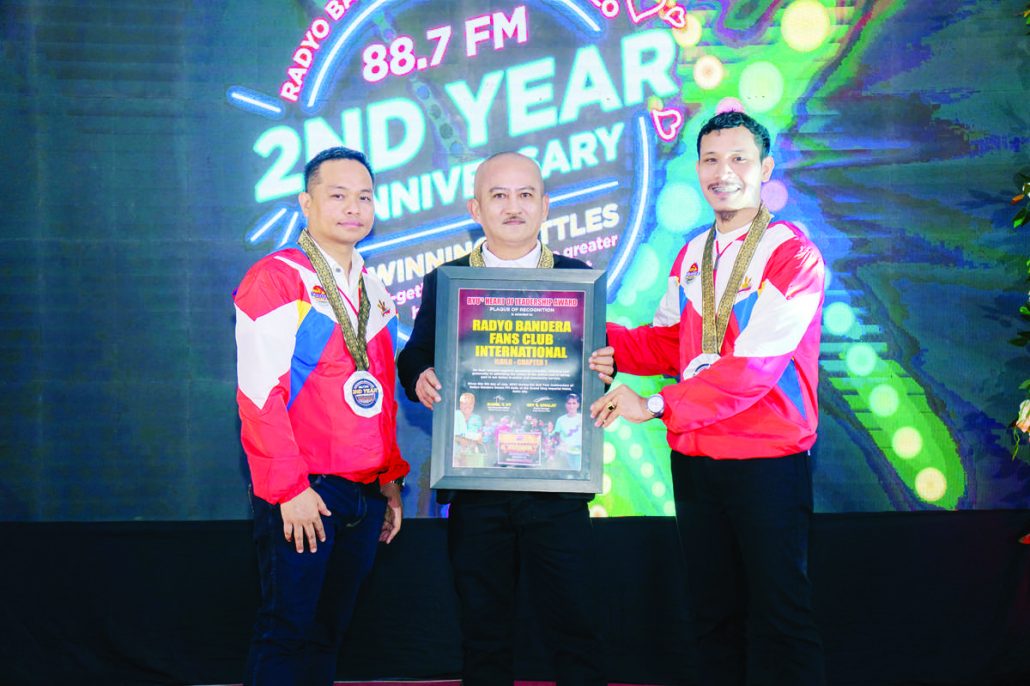 Following is the full list of Awardees:
* Digital News Editor of the Year: Kabanderang Manilyn Abarro-Palec
* Editor of the Year: Kabanderang Sonny Punay
* News Writer of the Year: Kabanderang Karen Badilla
* Pioneer Award: Kabanderang Manilyn Abarro-Palec
* Reporter of the Year: Kabanderang Ralph Mosqueda
* Beat Reporter of the Year: Kabanderang Kim Caluyo
* Outstanding Reporter of the Year: Kabanderang Kim Caluyo
* Digital News Reporter of the Year: Kabanderang Melmar de la Cruz
* Valuable Reporter of the Year: Kabanderang Alex Escalante
* Organizer of the Year: Kabanderang Arnold Soqueña
* Technician of the Year: Kabanderang Paul Dejada
* Patrol driver of the Year: Kabanderang Jeson Talaron
* Bandera Creatives Award: Kabanderang Andoy Sunico aka Kuya Andoy
* Outstanding Employee Award: Kabanderang Gem Bustamante
* Certificate of Appreciation – Kabanderang Jenny Caoyonan as chairperson of the "Ride for Life" event of the 2nd year anniversary celebration, which was attended by over 300 riders
The station also recognized the unwavering support of their Solid Radyo Bandera Supporters by giving them the RYU's Heart of Leadership award, Radyo Bandera Sweet FM Fans Club International Iloilo-Chapter 1, was one of the recipients and received by Mcjoe Buenavidez Filoteo, President of the said organization the same award was given to RBSFM Fans Club International Iloilo-Chapter 2, received by Fred Pasgala, President.
Meanwhile, Mrs. Fely Gegato-Abecia owner of Gegato-Abecia Funeral Homes Inc., also one of the awardees as Most Outstanding Advertiser of the year.
The future of the station will certainly bring more challenges for Radyo Bandera Iloilo. However, this milestone only serves as a proof that the station is more than ready to continue being in the service of Ilonggo's and win more battles for the next coming years.