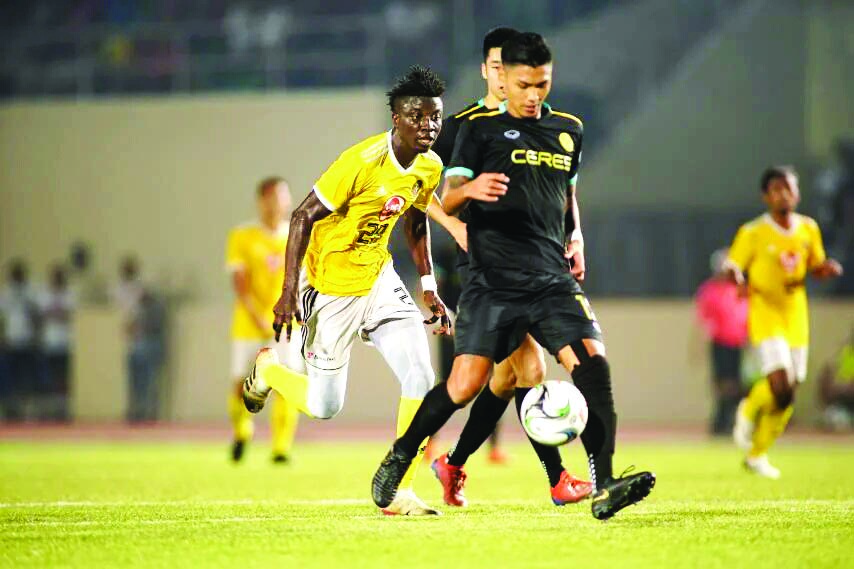 BIÑAN, Laguna – Ceres-Negros FC clinched the 2019 Philippines Football League – Copa Paulino Alcantara title via a 2-1 beating of Kaya Futbol Club-Iloilo in a one-game finale last night at the Biñan Football Stadium here.
Robert Lopez Mendy and Ilonggo Tristan Robles came up with a goal each as the Busmen swept the PFL titles this season. It ruled the League last month.
The Negros Occidental-based football club clinched the victory despite playing without Stephan Schrock, Carlos de Murga, Mike Ott, Sean Kane, and Jose Elmer Porteria.
Schrock, Ott, Porteria, De Murga and Kane were called up for the Philippine Azkals in the 2022 FIFA World Cup and the 2023 Asian Cup joint qualification game against Maldives and Syria.
Both teams struggled with their shots early until the Busmen drew first blood at the 30th minute with Lopez Mendy scoring from point blank range after eluding the defense of Kaya-Iloilo keeper Louie Casas.
The Busmen doubled the lead at the 67th minute courtesy of Robles.
Kaya-Iloilo cut the deficit to 1-2 on an 85th minute hit by Kenshiro Daniels but could not score a follow up to clinch the Copa crown.
Despite the defeat, last year's Copa titlist Kaya-Iloilo will still be the second Philippine-based team in the 2020 AFC Cup for finishing runner up in both League and Copa conferences./PN