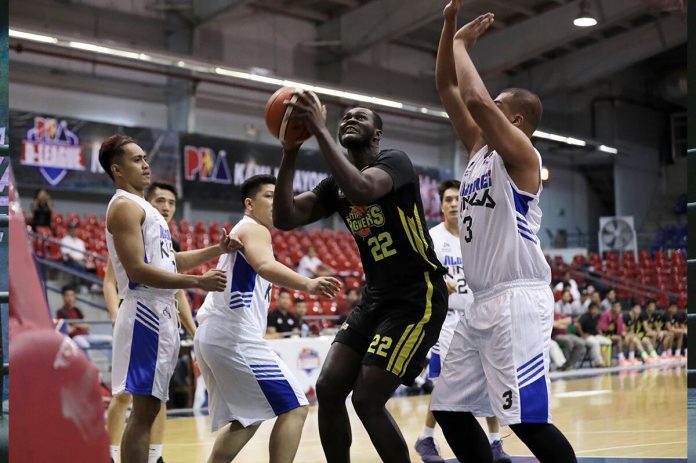 MANILA – Technological Institute of the Philippines Engineers is assured of a quarterfinals seat in the 2019 PBA D-League Foundation Cup following a 105-95 win over Alberei Kings at the Ynares Sports Arena in Pasig.
Papa Ndiaye made his return from a hamstring injury to finish with 37 points, 18 rebounds and four assists.
The Engineers TIP locked up a twice-to-beat advantage in the quarterfinals with its 5-1 slate.

Bryan Santos got himself a double-double with 28 points, 11 boards, two assists, and two steals while Ximone Sandagon recorded 12 points and four rebounds.

The victory, however, was unpleasant for the Engineers. It saw its 18-point fourth quarter lead, 92-74, drop down to as low as six, 101-95, with 37 seconds left before TIP sealed the win on hits by Sandagon and Ndiaye.
"I'm not happy with today's ball game," said Engineers head coach Potit De Vera. "I don't want to go to the playoffs with the thinking that our players are good enough. We always have to go all-out and I just want to keep on doing that."

For the hard-luck Kings, Jonathan Parreno and Jomari Lacastesantos poured 20 points apiece. The Kings stayed winless through four outings.

Meanwhile, Hyperwash Vipers rode on the hot hands of Ricardo Cawaling as it scored a 144-138 victory over skidding McDavid-La Salle Araneta for its first winning streak in the league.

Cawaling, who was part of Magnolia Hotshots franchise that won PBA Grand Slam in 2014, unleashed a conference-best 48 points, to go with seven assists and three rebounds for the Vipers./PN