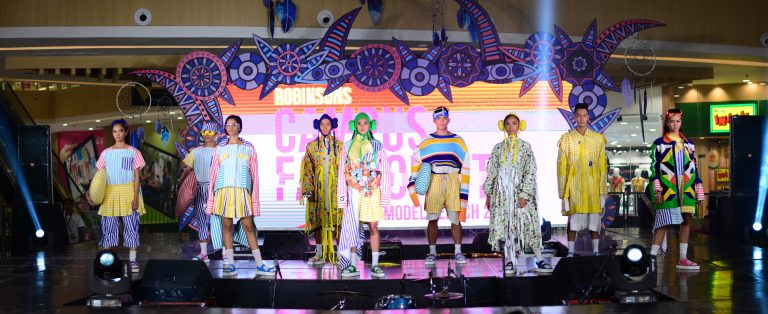 TALL, fierce, and strutting with sophistication, nine models from Iloilo showed off their runway skills as they flaunted the best high-fashioned outfits on stage. These gorgeous models competed for the title of the Ultimate Top Model in the Robinsons Campus Fashionista Model Search 2018.
The recent grand finals of the Robinsons Campus Fashionista Model Search was held in the lovely Robinsons Place Pavia on Sept. 28 at 5 p.m. Audiences got to see the cool and creative fashion trends as worn by the nine models namely Christine, Clark, Paula, Henry, Jay, Sharamie, Tracy, Warren, and Wye Ann.
The competition has reached its thirteenth year but just like how ever-changing fashion is, the competition had a change too. In fact, this year of the competition is deemed to be "modified" because previously, there are two grand winners and runners-up. Right now, both male and female models competed for the title of the Ultimate Top Model. There are also the titles of the Male Runner-Up and the Female Runner-Up.
The competition wowed the audience as chic designs were shown. The show opened with the models taking power over the runway by wearing the designs of Johnny Abad. The Bohemian-themed attires were beyond gorgeous and it felt like the coolness of Coachella festiva
l came all the way to the city of Iloilo when his designs were showcased.
Another segment was when the models walked twice as they first wore an active wear and then a street style. The items they wore came from the Robinsons Department Store. While Ilonggo band, The Queens performed onstage, the models managed to look classy and sporty at the same time, and they also came off with such elegance wearing casual street wears.
The fashion fever reached its hottest temperature when their final look comprised of edgy asymmetrical apparels designed by Jaggy Glarino. The striped patterns of his design matched with the relaxing colors were a perfect choice for the final walk. What's best was that they were given justice by the models who took the runway by storm.
Eventually, the winners of the event were announced. Jay Casuyo won as the Ultimate Top Model, beating his fellow eight contenders. He received 20,000 pesos worth of cash and gift certificates from Robinsons. He wore the black championship belt with such gratitude.
In an interview with Panay News, the Ultimate Top Model said that he is very thankful for the support of his girlfriend all throughout the model search and he also advises fellow models to just keep on working hard.
The Male Runner-Up was Warren Caluba and the Female Runner-Up was Sharamie Solocio. Both models received their reward which is also a black championship belt and 10,000 pesos worth of cash and gift certificates from Robinsons.
Caluba's tears flowed as he got emotional when his name was announced as Male Runner-Up. He shared his thoughts with Panay News, "What I was thinking during the competition was that I will do my best to get the prize since I am a self-supporting student."
The model further shared, "I was sad because my mother wasn't there. She is currently suffering from Stage 4 Bone Cancer. Before she got sick, she attends every single activities or contests I am part of. She is the reason why I entered the Model Search in the first place. I want her to be happy because of my success."
It was the most stylish dusk the month of September ever had. With all the attires designed and crafted by Ilonggo designers and Robinsons themselves, and with all the nine competitors who gave their best modelling skills, it is inevitable to say that this modified event got everyone mystified. The thirteenth Robinsons Campus Fashionista Model Search 2018 was a blast. Surely, everyone can't wait for the next year./PN