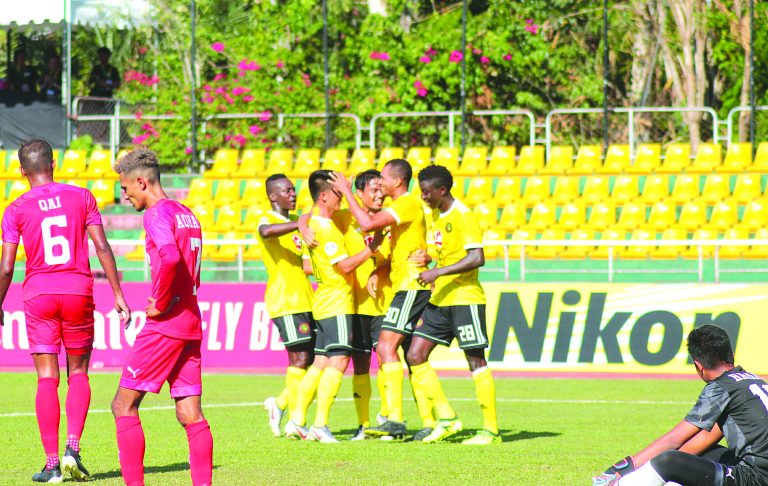 KAYA Futbol Club Iloilo went on a goal spree to defeat the visiting Home United of Singapore, 5-0, in the 2019 AFC Cup on Wednesday at the Panaad Park and Stadium in Bacolod City.
Darryl Roberts and Alfred Osei converted two goals each, while Ilonggo Jovin Bedic added another for the Kaya-Iloilo, which surged on top in Group H with four points. Home United remained at cellar with one point.
Kaya Iloilo felt at home in Bacolod with Roberts jumpstarting the offense with a second minute header. The next conversion came by way of a top corner hit by Bedic at the 32nd minute.
The Ilonggos padded the lead just before the halftime break with Roberts nailing his second goal of the match from close range following a miss by teammate Jordan Mintah.
Kaya Iloilo went on with its aggressiveness in the second half on back-to-back hits from Osei – first at the 48th minute and another at the 55th – to complete the one-sided showing.
Meanwhile, Bienvenido Maranon completed a hat trick as the Ceres-Negros FC cruised to a 3-1 victory over Becamex Binh Duong of Vietnam on Tuesday night at the Go Dau Stadium in Hanoi, Vietnam.
Ceres-Negros gained the lead at the 26th minute with Maranon blowing past the napping defense. Becamex was able to level the count at the 72nd minute courtesy of Wander Luiz.
Ceres-Negros quickly regained the lead two minutes later as Maranon nudged the ball home from inside six-yard box. Maranon completed his hat-trick at the 78th minute when he side-footed into the net from Jose Elmer Porteria's cut-back.
The victory allowed the Negros Occidental-based football club to tally its second straight victory to sit atop in Group G with six points, while Becamex dropped at the cellar with one point./PN