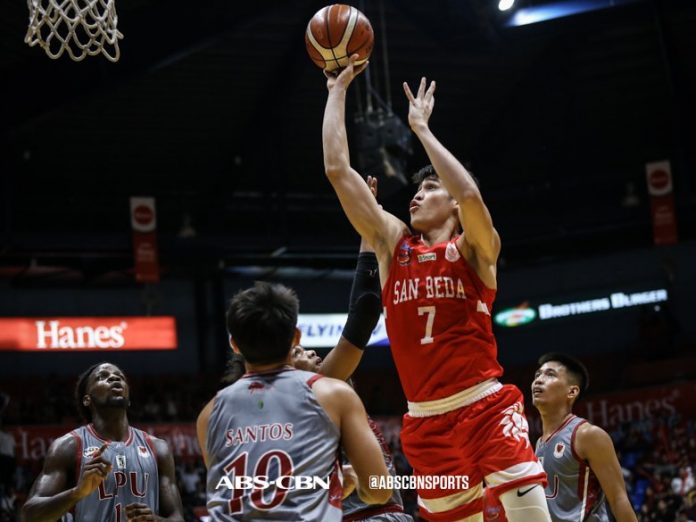 MANILA – Calvin Oftana's hard work for the San Beda University Red Lions in the NCAA Season 95 men's seniors basketball paid off. He is set to be hailed as the season's MVP today.

The Dumaguete City native has been solid for the Red Lions in their 18-0 elimination round sweep that allowed them to reach the finals outright, where they will face step-ladder semifinals survivor Colegio de San Juan de Letran Knights.

Oftana was the consensus MVP winner with his 51.56 PAV (player's average value) after averaging 15.6 points, 8.2 rebounds, 2.7 assists, and 1.2 blocks in 18 matches for the Red Lions.

Oftana's teammates Evan Nelle and James Canlas placed second and third with 45.39 and 45.33 PAV, respectively, while completing the Mythical Five were San Sebastian Stags' Allyn Bulanadi and Lyceum Pirates' Jaycee Marcelino.

Red Lions' Donald Tankoua, meanwhile, was hailed as the Best Foreign Player with his 45.28 PAV, built from his 13.3 points, 7.5 rebounds, and 1.9 assists in the final season where foreign student-athletes are allowed to play in the NCAA.

Arellano University Chiefs' big man Justin Arana was named Rookie of the Year for his 35.50 PAV after averaging 13.4 points, 7.8 rebounds, 2.8 blocks, and 1.4 assists.

Arana, a transferee from the University of Santo Tomas Growling Tigers, was also part of the Defensive Team together with Oftana, Perpetual Help Altas' Benedict Adamos, Emilio Aguinaldo College's JP Maguliano and Stags' JM Calma.

Pirates' graduating import Mike Nzeusseu was the Defensive Foreign Player for his 9.7 rebounds and 0.9 blocks./PN