St. Robert's International Academy is one of the leading education institutions in Western Visayas. With its eight years of existence, it has already proved its worth through quality service and education among its learners and stakeholders.
School year 2018-2019 showed to be a busy yet fruitful moment for all Robertines. The academy started its bold move when it relocated from GST Building to its new campus which is the former De Paul College. In the same school year, Dr. Robert F. Galindez (President) acquired the MiniBoss Business School as master franchisee in Asia. Robertines also bagged home medals and honorable recognitions from local, national and international competitions in sports, academics and performing arts. Despite several issues, Robertines stood as true champions. Another breakthrough for the academy is when it started the developmental phase for franchising with Francorp Philippines handling the consultation. Soon enough St. Robert's International academy will be felt all over Philippines and Asia.
The BCR (Bernadette Cruz-Rosales Kiddie College for Creative Arts is committed to develop potential – intellectual, physical, social, and emotional ability of every learner – using a methodology that nurtures each child's learning style, personality, talents and cultural heritage.
This department has a uniquely designed curriculum which models creativity and arts. It caters learners from Pre-Kinder to Grade 6 and provides inclusive education with provisions of individualized intervention to children with special needs. Creative arts is integrated in its academic delivery to foster self-confidence and good interpersonal skills among young learners. While The GDS (George D. Sorio) Special Business High School Department employs pedagogy that encourages students to become involved with business problems and concepts, which foster managerial and entrepreneurial skills.  Special business curriculum is crafted in training students to be astute decision makers and professionals who can readily navigate uncertainty, risk, and change. At the top of their regular academic subjects provided by the department of education, additional business subjects are integrated to the program.  With its special business curriculum, students learn to take academic theories and apply them to real-world problems.
To blissfully conclude the successful school year of the Robertines and to give blessings to the parents, teachers, awardees, completers and graduates, a baccalaureate mass was held on the 8th of April at Jaro Cathedral with Fr. Narciso Landar as celebrant.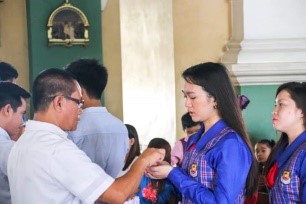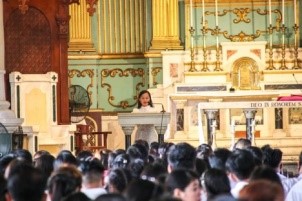 The following day, April 9, 2019, on its 9th BCRKKCA & GDSSBHS Recognition and Moving Up Ceremony held at Diversion 21 Hotel, students, teachers and parents alike celebrated its sweetest success. Robertine parents were among the happiest especially seeing their children going up on stage receiving medals and certificates. Dr. Ma. Teresa Penecilla, District Supervisor-4B (Jaro), representative of the Department of Education served as Guest Speaker and Confirmation Officer. She was delighted of the occasion and gave valuable words to the Robertines on their future endeavors. Andrei N. Sio, Grade 6 Top Achiever and Zyrex Djewel F. Ganit, Grade 10 Principal's Lister both delivered stirring messages giving inspiration to their peers.
On the night's 7th BCRKKCA & GDSSBHS Graduation and Completion Ceremony, parents and guests were amazed of the distinctiveness of the event. The venue was adorned with flowers and lamps taking inspiration from the song "Now You See the Light" of the Walt Disney animated film "Tangled". This was also timely as the night's Inspirational Speaker was no other than the Miss Earth 2015 Angelia Ong. She was overjoyed of the occasion as it was her first time to be invited to talk for a graduation. Her speech was filled with words of encouragement for the Robertines. Among the noteworthy Robertine graduates of the night were Galeno "Rock" Opong, Asia's Got Talent 2019 Semi-Finalist and Jun Carlos Gumacal, ABS-CBN's Jr. Hashtag and Team Yey Star. Chystalle Alexis C. Ramos, Grade 10 Principal's Lister, gave everybody teary eyes when she delivered her closing remarks expressing gratitude to the Robertine family for giving her class the best love and education.
Ms. Clarissa G. Zamora, OIC, Office of the Schools Division Superintendent served as confirmation officer. This year's DepEd theme is "Pagkakaisa sa Pagkakaiba: Kalidad na Edukasyon para sa Lahat (Unity in Diversity: Quality Education for All".
The RFG (Robert F. Galindez) Senior High School department primarily aims to foster functional literacy, employability and readiness for college degrees among its learners. The department offers the academic tracks: General Academic Strand (GAS), ABM (Accountancy, Business and Management (ABM), Humanities and Social Sciences (HUMMS) and Science, Technology, Engineering and Mathematics (STEM) and Technical- Vocational- Livelihood (TVL) Track which is Information and Communications Technology (ICT).
The department aims to promote the establishment of a complete, adequate, and integrated system of education and encourages innovative learning system. It facilitates the transformation of learners into competent professionals and responsible citizens equipped with global standards. The program imparts quality education and 21st century skills to create significant change in the lives of every learner, enabling them to enhance their functional communication skills, sustain their needs and meet the demands of the society. It also strengthens the learners' economic, social and cultural development while taking consideration to their rights and traditions. Through uplifting their educational system, they can promote their interests and well-being to become more responsive to the needs of their community.
On April 15, 2019, St. Robert's International Academy held its 3rd RFGSHS Recognition and Moving Up Ceremony and 2nd Commencement Exercises at Iloilo Convention Center. The momentous occasion was attended by gratified parents. Among the notable guests in attendance were Atty. Joshua C. Alim (City Councilor/ Chairman of the Board of Trustees) as recognition and moving up speaker, Dr. Ma. Luz M. Delos Reyes (Schools Division Superintendent, Division of Guimaras) as graduation speaker, Dr. Ma. Teresa M. Penecilla (District Supervisor- 4B (Jaro) and Dr. Jerry M. Lego (Chief Education Supervisor, DepEd Iloilo City) as confirmation officers.
There are several challenges a senior high school student must face after completing the 12 years of basic education. They are supposedly qualified for employment but most prefer to go to college and pursue a degree. Either way Robertines are surely well equipped as St. Robert's International Academy never failed to provide excellent, world-class, God-centered and learner oriented education./PN