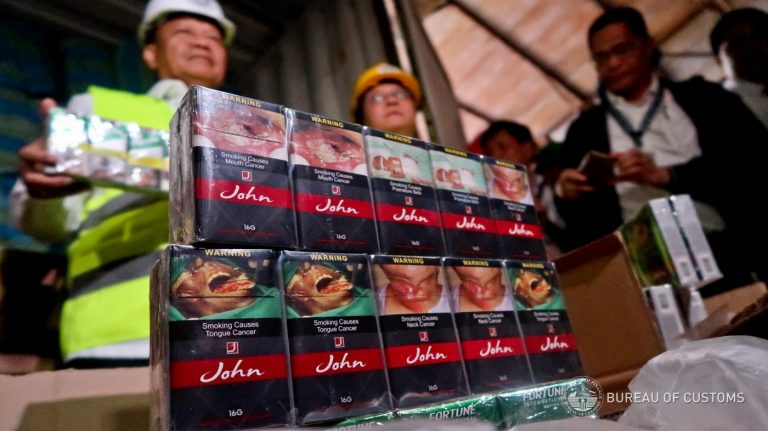 MANILA – Another increase in the excise tax on tobacco products looms, and the government is ramping up efforts to combat cigarette smuggling in anticipation of heightened illicit tobacco trade amid higher levies.
In an interview on ANC's "Headstart" Wednesday, Finance assistant secretary Tony Lambino said there are experiences around the world that incidence of smuggling increases as the government moves to hike taxes on a certain commodity.
"Every week during executive committee hearings, there are reports on operations: master cases of cigarettes have been smuggled," Lambino said.
"Results of these operations are reported every week, those task force created to do this are working and their works are intensified," he said.
Congress, on Tuesday, gave a final approval to the measure increasing the excise tax on tobacco products, or the Sin Tax Reform Bill, after the House of Representatives adopted the reapproved Senate version.
Under the measure, an excise tax of P45 per pack will be imposed on cigarettes starting January 1, 2020, which will increase further to P50, P55, and P60 per pack in the next three years until 2023.
It will then go up by 5 percent every year starting 2024.
At the same time, an excise tax of P10 per pack of 20 units will be imposed on heated tobacco products, while vapor products will have a P10 excise tax for every 10 milliliters starting January 1, 2020. These rates will increase by 5 percent annually beginning January 2021.
With higher excise taxes on tobacco products, Lambino said the government needs to keep up enforcement measures against smuggling.
"For instance, you know the Mighty case resulted in selling of Mighty Tobacco to Japan. Since then there were 27 enforcement actions, they have caught 47 sets of machine, each machine can produce 200,000 sticks of cigarettes a day," he said.
Increasing sin taxes will address the expected funding gap to guarantee equal access to quality and affordable healthcare for all Filipinos.
According to the DOF, the Universal Health Care program will be left with a funding shortfall of around P63 billion come 2020 – the first year of full implementation of the UHC law – if tobacco and alcohol excise taxes will not be raised.
The UHC program is estimated to cost P258 billion, but the government can only cover P195 billion from the national budget, the Philippine Amusement and Gaming Corporation (PAGCOR), and the Philippine Charity Sweepstakes Office (PCSO). (GMA News)