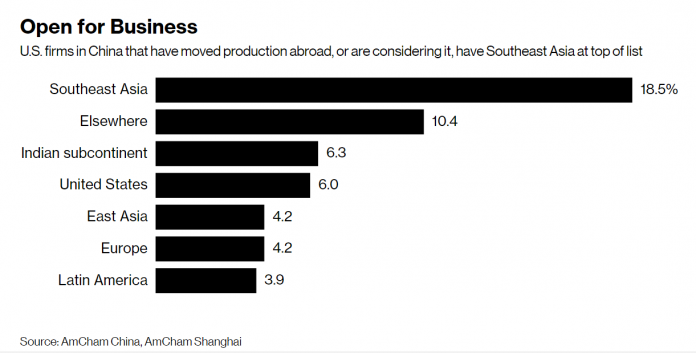 BEIJING – "No one wins from a trade war," is a standard refrain among economists. Southeast Asian businesses are trying to prove that maxim wrong.
The region is capitalizing on a rush of new orders and production moves as firms reconsider their business in the US and China amid a deepening trade war. About one-third of more than 430 American companies in China have or are considering moving production sites abroad amid the tensions, according to survey results released Sept. 13 by AmCham China and AmCham Shanghai. Southeast Asia was their top destination.
Vietnamese furniture producer Phu Tai Corp. is among those looking to cash in. The maker of home furnishings for Wal-Mart Stores Inc. outlets in the US is planning for a 30 percent increase in its exports this year and in 2019, according to Deputy General Director Nguyen Sy Hoe. It'll invest about $10 million to expand two factories at its base in Binh Dinh province and to upgrade production lines in two other factories in Dong Nai further south.
"We see this as a great chance to boost our exports to the U.S. as we're getting more orders from that market," Hoe said by phone Sept. 4. "Given the escalating trade war between China and the U.S., many American importers are switching to buy from Vietnam."
The 10-economy bloc of the Association of Southeast Asian Nations, or Asean, is a natural magnet for new factories thanks to low production costs and well-trodden manufacturing plants, solid growth with the five biggest economies expanding at about 5.3 percent on average, and improving ease-of-doing-business rankings — not to mention geographical proximity to China.
Hong Kong's Trade Development Council recognizes Southeast Asia's clout. Nicholas Kwan, research director of the territory's statutory body that supports local firms, called Southeast Asia "an economic powerhouse" and pointed Hong Kong businesses to the bursting region as a safe haven amid trade-war tensions in a press conference.
Producer sentiment indicators around the world have shown negative impact from the tariffs on $50 billion in goods the US and China have imposed on each other since July.
With another $200 billion in Chinese imports targeted and China announcing retaliatory tariffs against $60 billion of US goods, trade-reliant Southeast Asia will also be exposed to that overall drag. But unlike many developed economies, the alternative production bases also stand to gain as companies shift orders to them to avoid levies.
Nguyen Thanh Phuong, chief executive officer of Kangaroo Group, a Vietnamese producer of home appliances, forecast a 10 percent increase in sales to the U.S. in the second half of 2018. His company has received orders from American clients who used to buy from Chinese makers, Phuong said in a Tuesday interview in Hanoi.
"The new U.S tariff is helping our products become more competitive against Chinese ones," he said.
Koratak Weeradaecha, finance director for Star Microelectronics Thailand, also has noticed fluctuations in orders that correlate with the trade tensions – first, a delay as some adjusted to new tariffs, he said in an Aug. 24 interview. Orders have now increased by at least 15 percent from 2017 and "we expect the trend to be more apparent later this year."
"Orders came from companies that moved their production lines here, which helped boost the supply chain in Thailand," said Koratak. "And we think there should be more as many companies should think about relocating their plants to neighboring countries, as staying in China may be too risky."
Electronics manufacturers aren't the only ones in Thailand bound for a boost. Malayan Banking Bhd. cites automobiles, seafood, rubber, and tourism all as markets that stand to benefit as Chinese goods become less attractive.
The Thai government agrees that the seafood sector will win amid the U.S.-China disputes, with those goods being targeted on both American and Chinese tariff lists, said Pimchanok Vonkorpon, director general for the commerce ministry's trade policy and strategy office.
"Canned tuna should be a prime beneficiary sector," she said.
Thailand makes up about 21 percent of China's fruit imports, so that market stands to gain against US competitors that hold an almost 8 percent share. Judging by the ability to offer substitute goods, Thailand is among the best-placed in the world to find opportunity amid the chaos, according to a July report from Krungsri Securities.
While companies have been reluctant to act prematurely on production shifts, there have been some scouting areas in Thailand as potential factory sites, Nattapol Rangsitpol, director-general of the Ministry of Industry's Office of Industrial Economics, told reporters Aug. 28.
It's a similar story in Malaysia. "We've got so many inquiries that our greatest problem is how to ramp up capacity," including in electronics, steel production and automation from both China and the U.S., Malaysian Finance Minister Lim Guan Eng told reporters Sept. 13 in Hong Kong. "Once they come in it is very hard to pull out."
Malaysia could see the benefits both as a trans-shipment point and because it's a neutral country in which Chinese and American companies both would have an interest in investing.
Malaysian billionaire Robert Kuok's Kerry Logistics Network Ltd. is seeing "numbers are looking up a bit more" as companies divert distribution centers from mainland China and into places like Hong Kong and Taiwan, and parts of Southeast Asia, according to the company's chairman, George Yeo.
"They're thinking of the next factory, and they're less likely to put it in China," Yeo, a former trade and foreign minister in Singapore, told Bloomberg Television Sept. 14. He acknowledged that some firms already were planning to move business to lower-cost manufacturing sites outside of China.
The complication of calculating aggregate benefits for some economies is evident in Malaysia, which could score wins in some areas while also taking a hit to its parts-makers that sell heavily to China. For now though, Southeast Asia is shaping up as the one region which may notch some gains as the U.S. and China exchange trade blows.
Vietnam has "more opportunities than challenges" from the U.S.-China trade tensions, Prime Minister Nguyen Xuan Phuc told Bloomberg Television in a Sept. 10 interview. The premier views the dramas as helping push Vietnam toward enhancing other trade relationships and embarking on domestic reforms to keep its development apace amid turbulent times. (Bloomberg)